---
Hotel
Sky Bar Bangkok
Would you like to hang out with colleagues after work and in a meantime watch Bangkok move with its chaotic streets move beneath you? Or would you want to have delicious food and drinks with friends and be amazed at the skyscrapers in Bangkok? If your answer is yes, just look no further. At View Rooftop Bar Bangkok on the 9th floor of Novotel Bangkok Platinum Pratunam, we have this sky bar Bangkok that can provide you with all of those things and so much more.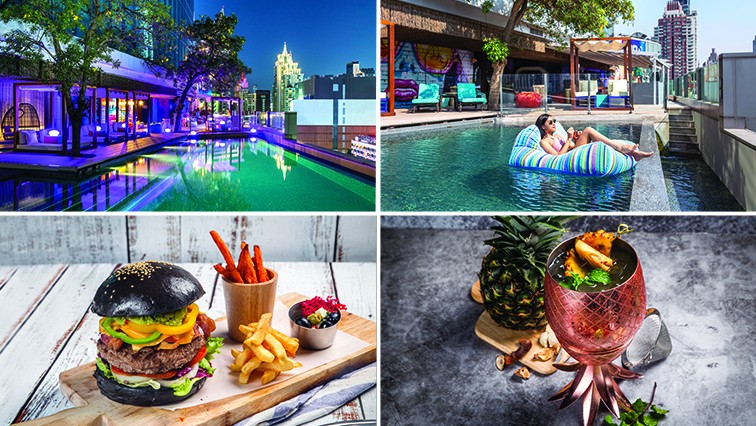 Time to Chill out at this Bangkok sky bar
You can unwind at View Rooftop Bar Bangkok how you want. And most importantly, you can chill out here whenever you want. Opening from 8 am until 1 am, this sky bar welcomes you whether you need a cup of coffee, a big meal, or a nice glass of cocktail.
Thanks to our bar concept of an oasis in the middle of a busy and buzzing world, you will definitely feel relaxed like you are in a different world the moment you enter this Bangkok sky bar because of its relaxing atmosphere. You can then choose to sit on a bean bag or on a chic and comfortable chair. And a nice drink in your hand is something not to be missed when you are here. We have more than 10 menus of signature cocktails and a wide range of beers, wines, and even mocktails for you to enjoy sipping. That's not all. Select some delicious dishes from our menus of comfort food around the world. At View Rooftop Bar Bangkok, you will not only just have some food. We will take you on a culinary journey. Be amazed by various well-known dishes from every part of the world such as our Signature View Bangkok Burger, Pad Thai, and Krapow Pork Pizza.
Everyone loves this Bangkok sky bar
Having a 180-degree panoramic view of Ratchaprasong and Pratunam district, View Rooftop Bar Bangkok offers an unbeatable view of this city that you will never see elsewhere. And if relaxing while admiring a nice view and the atmosphere is what you love to do, this Bangkok sky bar is your place to be. This is why View Rooftop Bar Bangkok is not just popular for only certain groups of visitors. Every kind of guests can enjoy at this sky bar every day. Lovers can have a romantic moment while sipping a glass of wine and watching stunning views with candlelight. A group of colleagues can hang out and enjoy each other's company after work. Parents can take their kids to watch an amazing view and play in the pool while sipping our great mocktails. This is why everyone loves our sky bar in Bangkok.
Sky Bar in the heart of Bangkok
With its convenient spot of Novotel Bangkok Platinum Pratunam where this Bangkok sky bar is located, coming to View Rooftop Bar Bangkok is a piece of cake. The bar building is right at the Pratunam intersection, above The Platinum Fashion Mall. If you don't drive, and actually we suggest that you don't do so here in Bangkok, do not worry. It only takes less than 10 minutes to walk from Siam or Chidlom BTS Skytrain station to our sky bar through R-Walk. Or, you can take a shuttle boat and get off at Pratunam Pier which is opposite to the sky bar building. This is the reason why working people like to come and hang out here after work. Look how easily they can get to this favourite spot of theirs.
Special promotion of this sky bar Bangkok
If you think that this sky bar can offer just delicious drinks with a good view, think again. We also have a special and very generous offer for visitors who would like to come and chill out at this best sky bar in Bangkok. You can hand out with friends and enjoy our daily Happy Hours with its Buy 1 Get 1 Free. If buy 1 get 1 free is not generous enough, how about happy hours with more than just one hour. Because at this Bangkok sky bar, all we want is for you to relax and do not worry about anything. So, you will get two whole hours from 5 – 7 pm to enjoy this huge offer from us. So, wouldn't you want to come and enjoy at this best sky bar in Bangkok?