---
Hotel
Rooftop Bar Bangkok
Imagine chilling out with friends while you feel a cool breeze in Bangkok, gazing down calmly at the often chaotic Bangkok streets or being amazed at the modern area of high-rise buildings in Bangkok. The good news is you can do all of these and more at View Rooftop Bar Bangkok on the 9th floor of the Novotel Bangkok Platinum Pratunam.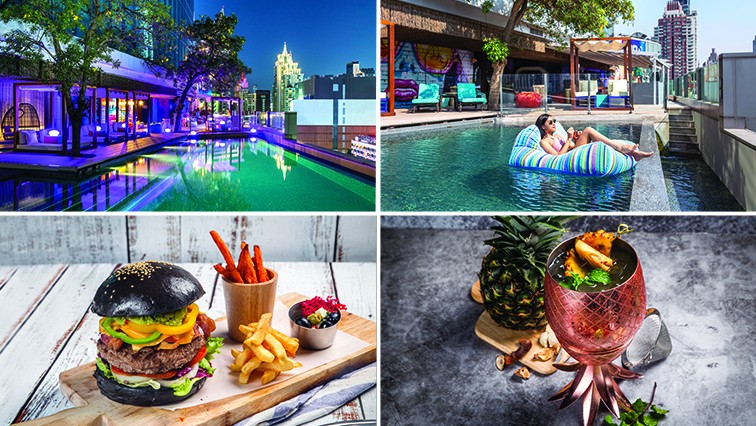 Chilling out at View Rooftop Bar Bangkok
At View Rooftop Bar Bangkok, prepare to relax the way you want whenever you want. This rooftop bar starts from 8 am – 1 am every day and it welcomes you whether you feel thirsty or hungry. Entering the bar, you will feel like you are in a different world. It is an oasis in the middle of a busy urban environment.
Choosing to lounge on a comfortable bean bag or chic chair is your choice. Later, you will need to decide whether you would want to enjoy our signature cocktails, craft beer, wine, coffee or more. Then, pick out our comfort food especially the bar favourites such as pizzas or burgers. Once you have all the food and drinks, the only thing left to do is to enjoy the greatest view of Bangkok from this Bangkok rooftop bar. You can enjoy the peaceful view of the early morning calm in Bangkok or dip in our outdoor infinity pool next to this rooftop bar in the middle of the hot day in Bangkok. Or, sip our delicious signature cocktails and watch our in-house DJ playing live music through the night.
Also, make sure to snap selfies with the great view of Bangkok with sunset while lying down on relaxing bean bags in a private pavilion.
Your next favourite rooftop bar
View Rooftop Bar Bangkok boasts a 180-degree panoramic view straight down the always-busy Ratchaprasong district. So, you will see a view of Bangkok that cannot be seen anywhere else in the city. If relaxing while watching a nice view is your thing, this Bangkok rooftop bar will be your next favourite bar. It has the view of the Bangkok Skyline. You will, therefore, hear the hustle and the bustle of Bangkok's Fashion District. While listening to that, you can as well see the city move beneath you.
This Bangkok bar is not just popular for only certain types of customers. Guests from all walks of life can enjoy it on a daily basis. If you are taking your lover with you to this rooftop bar, you can surely appreciate the romantic moments amongst the stunning views while sipping on your glass of wine. Meanwhile, if you are looking for a place to hang out with a group of friends or colleagues, this is the perfect place for you to unwind and enjoy each other's company. You can also share tasty comfort food while sipping View Rooftop Bar Bangkok's signature cocktails.
The only rooftop bar that you can relax all day long
Who says enjoying in a rooftop bar has to be only in the evening or at night? At View Rooftop Bar Bangkok, you can sip a freshly-brewed cup of coffee while greeting the morning with a smile from 8:00 am onwards. During the daytime, you can chill out after a swim at the outdoor infinity pool next to the bar while sipping some refreshing drinks. Or, you can sit back after a productive afternoon spent exploring Bangkok or doing some shopping. And when the sun is about to set, it is the best time not to miss a refreshing drink or a cocktail and some snacks in your hands. Sipping and savouring while watching the sunset over Bangkok is a must when visiting our Bangkok rooftop bar. With this marvellous view, a normal moment will become a special one at this best rooftop bar in Bangkok!
Rooftop Bar Bangkok that is easy to access
Getting to View Rooftop Bar Bangkok is very easy thanks to the hotel's convenient spot right at the Pratunam intersection. The rooftop bar is on the 9th floor of Novotel Bangkok Platinum Pratunam which is right above The Platinum Fashion Mall. You can reach View Rooftop Bar Bangkok either via personal car or BTS Skytrain. A commuter boat of the Sansaep canal is also possible and very convenient. The Pratunam Pier is right opposite the hotel building. So, this is the place for your after-work drinks or a weekend treat to celebrate without having to be worried about traffic in Bangkok.
The bar with special promotion
Not just offering a panoramic view of the Ratchaprasong district with its welcoming and relaxing decoration for you to relax and unwind. You can kick back and chill out with great deals suited for groups big and small like the daily Happy Hour with its 'Buy 1, Get 1 Free' offer from 5 pm – 7 pm.  With our generous offer of more than one hour of happy hours, who would not want to enjoy this special promotion in this best rooftop bar in Bangkok?